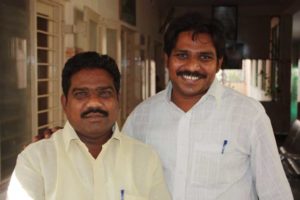 Years ago, Pastor I.'s father sought to plant a church energized with a passion for evangelism and the building-up of believers. Moving away from the more traditional way of growing a congregation, he preached the Word in several areas—a ministry that Pastor I. K. became a part of in 2008 and now leads as pastor.
The church, located in Vijayawada, India, now has a congregation of 100 members, of whom 80 have been baptized. Every Tuesday, Pastor I. K. travels to local villages to evangelize and preach the Gospel. Just last month, a young girl named Eshwari accepted the Lord Jesus Christ as personal Savior and Lord.
Student becomes teacher
Along with his elder brother V.K., a government employee, Pastor I. K.  enrolled in Shepherding the Nations' very first training-and-equipping group in 2009 and graduated in 2015.
Along with teaching the 75 people who make up several monthly BTCP classes, Pastor I. K.'s busy ministry also includes leading the church's fasting and prayer every Saturday, which is attended by as many as 20 people.
He also assists with weekly church-related meetings, both in Vijayawada and in nearby villages. One of the meetings in March was attended by 25 people who expressed an interest in learning more about the Gospel. He also regularly organizes special meetings and day-long, ministry-related seminars for the women of the church.
Pastor I. K.'s ministry of faith is supported by STN International. He and his wife U.K., a nurse, have two children. They are very grateful for your continued prayers and support.
SaveSave
SaveSave
SaveSave
SaveSave