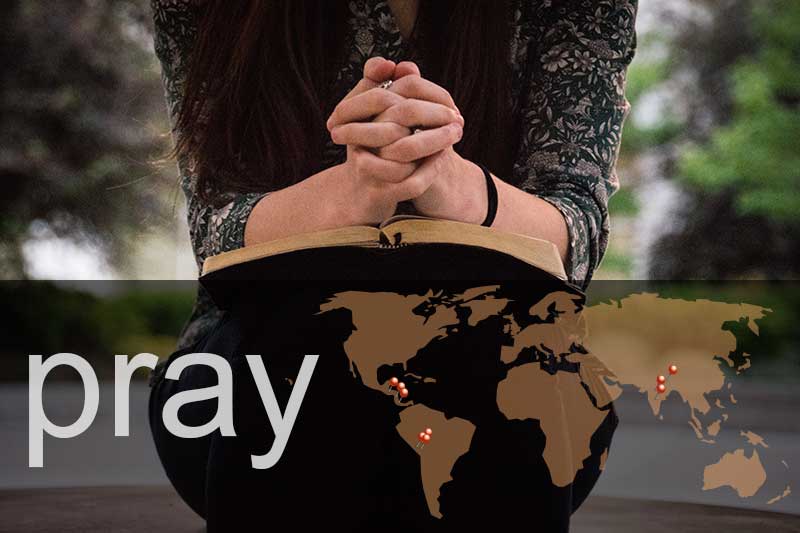 Devote yourselves to prayer, keeping alert in it with an attitude of thanksgiving; praying at the same time for us as well, that God will open up to us a door for the word, so that we may speak forth the mystery of Christ, for which I have also been imprisoned; that I may make it clear in the way I ought to speak. (Colossians 4:2–4 – NASB95)
The Apostle Paul understood the priority of prayer. He prayed incessantly for others and often asked others to pray for him and his missionary endeavors (Eph. 6:18-20; 1 Thess. 5:25). Pastors and missionaries experience weaknesses, fears, frustrations, challenges, temptations, and doubts like everyone else. But added to that is an intense spiritual struggle because the enemy of their souls does not want them to advance the cause of Christ. Satan and his minions work diligently to hinder them from proclaiming the Gospel and training the saints to maturity (1 Thess. 2:17-18).
Prayer partners for each pastor in training
With that in mind, I am looking for prayer partners who will commit to pray (at least once each week) for specific people that we are training for ministry. Currently we have over 500 people in training and that number may rise to 700 by the end of the year.
We would love for all of them to be prayed for by name, asking God to:
protect them and provide for them
cause them to grow in spiritual disciplines
be diligent in studying the BTCP materials
apply them to their lives and ministries
be faithful in their relationships
be bold in evangelism
be true shepherds of the people
Imagine what 700 people with solid biblical training and the support of prayer partners could do to advance the cause of Christ in India, Nepal, and Latin America. If all heaven rejoices over one sinner that repents (Luke 15), imagine what heaven will do when these students impact thousands with the gospel!
Are you willing to help us intercede on behalf of these evangelists and church planters in training? Do you have a small group or Bible study that would like to pray together for these future leaders? Praying for one student would be great, but praying for 5 to 10 would be even better. If you would like to join this prayer ministry, please email us at info@shepherdingthenations.org and let us know how many names you would like. We will send you the name(s) and approximate location of where they live.
Thank you for joining with us in this prayer ministry. Some day we will have the privilege of talking with the people we prayed for and the people they led to faith in Jesus Christ. What joy is ours to participate with them on our knees in prayer.
SaveSave
SaveSave
SaveSaveSaveSave
SaveSave
SaveSave
SaveSave